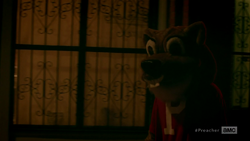 Pedro the Prairie Dog was Annville's politically correct mascot. Pedro and Red Savage were secretly lovers.
Camp leader
Edit
At a camp, Pedro was a troop leader. During which, he inappropriately touched Eugene Root.[1]
Annville's new mascot
Edit
Annville's previous mascot Chief Red Savage was replaced due to political correctness. Pedro the Prairie Dog became the town's new mascot. A portion of the town however, didn't accept the change. During the unveiling of the mascot, a small riot ensued outside Annville City Hall. Pedro the Prairie Dog was hit several times by the previous mascot and the crowd.[2]
Pedro was assaulted by the Chief Red Savage. Later, Pedro dropped the charges. Pedro attended Jesse's service when he brought God to Annville. After being told they were saved, Pedro embraced a parishioner next to him. After learning that it was actually an impostor God, Pedro and Chief Red Savage hanged themselves next to each other, just before Annville was incinerated.[3]
Appearances
Edit
References
Edit
↑ Catlin, Sam & Wagner, Rachel (writers), Slovis, Michael (director) (September 4, 2017). Preacher Season 2: "On Your Knees". Episode 22. (2x12).
↑ Rogen, Seth, Goldberg, Evan, Catlin, Sam (story by), Catlin, Sam (teleplay by) Goldberg, Evan & Rogen, Seth (directors) (May 22, 2016). Preacher Season 1: "Pilot". Episode 1. (1x00).
↑ Catlin, Sam (writer), Catlin, Sam (director) (July 31, 2016). Preacher Season 1: "Call and Response". Episode 10. (1x09).
Ad blocker interference detected!
Wikia is a free-to-use site that makes money from advertising. We have a modified experience for viewers using ad blockers

Wikia is not accessible if you've made further modifications. Remove the custom ad blocker rule(s) and the page will load as expected.